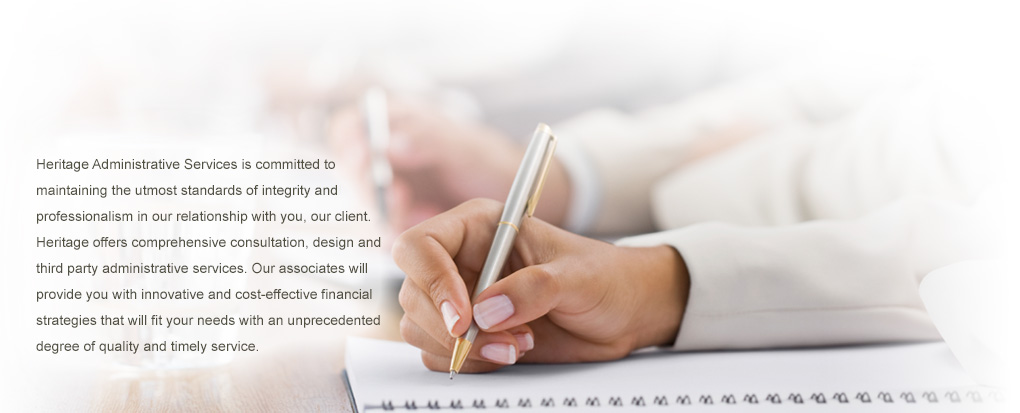 Heritage Administrative Services offers full service retirement plan administration for all types of qualified retirement plans.

Each Industry is unique. Our firm works closely with: Brokerage Firms & Financial Institutions, Qualified Plan Sponsors, Financial Advisors, Agents & Brokers.

How can Heritage help you?

By providing a range of services,
both traditional and innovative.







August 1, 2016  


Due date (without extension) to file Form 5500 with Schedules for plan years...

August 1, 2016  


Last day to file Form 5558, a request for an automatic 21⁄2 month extension...

September 15, 2016  


2015 contribution deadline for all plans subject to minimum funding...

September 15, 2016


2014 contribution deadline for deductibility in 2015 for corporate and...

September 30, 2016  


Deadline for distribution of 2015 Summary Annual Report for plans not...

October 1, 2016 


Last day for implementation of new 2016 Safe Harbor 401(k) plan

October 17, 2016


Due date (with automatic extension) to file Form 5500 with schedules...

October 17, 2016  


Due date (with automatic extension) to file Form 8955-SSA for plan...

October 17, 2016


2015 contribution deadline for deductibility in 2015 for sole...

December 1, 2016


Deadline for distribution of 2016 Safe Harbor Notices

December 15, 2016


Deadline for distribution of 2015 Summary Annual Report for...

December 31, 2016


Deadline for completing 2016 Required Minimum Distributions...

December 31, 2016


Deadline for correction of a failed 2015 ADP or ACP test...

December 31, 2016


2015 Safe Harbor and Top Heavy contribution deadline